Dangers of Mold Exposure
Mold is part of the natural environment; it breaks down and digests organic materials. But when mold invades your space, it becomes unsightly and compromises your health and that of your colleagues or family. That's why it important to learn ways of identifying mold and to take action before the issue escalates.
A mistake most people make is to assume that only black mold can invade their homes. There are different types of mold with various levels of toxicity, and some are even a combination of colors. So, whenever you notice strange discoloration on your walls and surfaces, chances are that you have a budding mold infestation.
Causes of Mold Growth
Most homes and businesses strive to keep their spaces clean. When they notice mold, a question that crosses their mind is: "What might be the cause of mold in the house?"
Well, the cleanliness level has nothing to do with the infestation. Mold spores thrive in areas with high humidity. The common contributors to humidity are leaking pipes, condensation, dripping roofs, and flooding.
In addition to moisture, other conditions for black mold to grow are oxygen supply and food source. Mold will feed on almost anything they land on, like wallboard, wood floors, walls, clothes, and even books. When the infestation spreads, expect a pungent mold smell.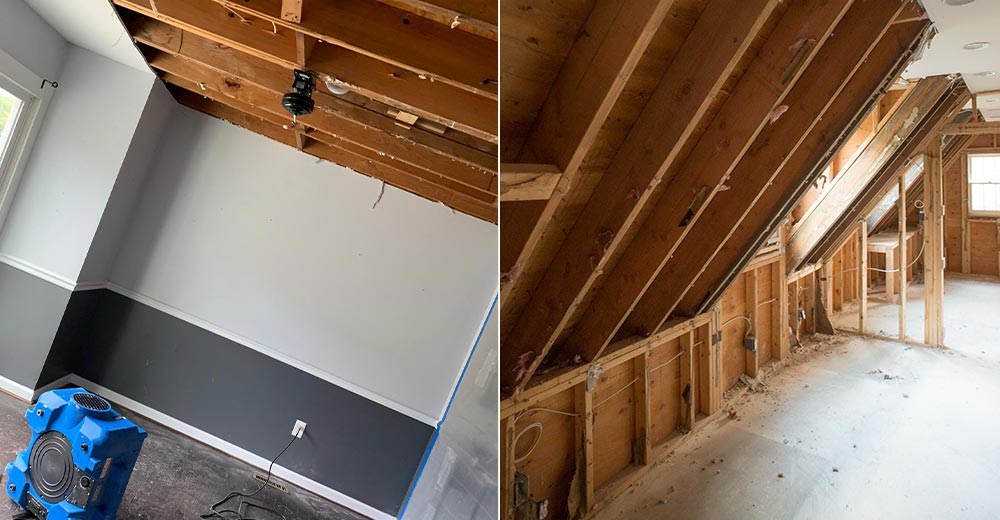 Risks Associated With Mold Exposure
Mold spores in your space will spread fast and use most surfaces they land on as a food source. That increases mold risks. Here are four primary risks associated with mold exposure.
Structural Damage: Mold will cause damage to your walls, floorboards, and insulation. It also leads to roof deterioration. Such complications will compromise the aesthetics and integrity of your building.
Damage to Property: Mold will act on personal belongings like furniture and clothing; you'll not love it. It can even cause damage to your valuables, like art collections and jewelry.
Compromising of Indoor Air Quality: Mold attaches to the HVAC units because of moisture, causing an extensive air deterioration.
Health Risks: Do you live with people sensitive to mold? Exposure to these fungi could lead to mold poisoning, which results in severe health complications.
Here is some good news: Prevent such risks by hiring Hippo Carpet Cleaning Rockville whenever you realize early signs of mold in the house.
Mold Related Illnesses
Some people don't take mold infestation seriously because they aren't aware of the mold exposure side effects. Don't ignore those suspicious spots and colonies on the walls or ceiling.
Occupying spaces with mold increases the risk of allergic reactions. It's even worse when you are sensitive to mold. In a nutshell, exposure results in severe mold sickness accompanied by symptoms such as:
Stuffy nose.
Strong headache.
Itching eyes.
Mold toxicity rash (Due to mold infestation on the skin).
In extreme allergy cases, it may lead to death.
To avoid mold-caused illnesses, don't hesitate to hire our experts for mold testing, removal, and remediation as soon as you notice the mold signs.
Mold Testing and Removal Services
Mold infestation requires prompt attention, whether in your commercial or residential space. Proper measures start with hiring qualified professionals for mold testing and removal services.
Mold testing reveals the type of infestation in your home. The results help plan the best mold abatement technique to eliminate the infestation.
At Hippo Carpet Cleaning Rockville, we have state-of-the-art tools and experience to handle mold testing and removal. Our team of experts understands what's needed, and we're up to the task, even when it's an emergency mold service.
How to Prevent Mold from Spreading
Prevent mold from spreading in your space by keeping the humidity level low. A moisture detection meter will help you know the areas with high moisture levels, creating a suitable environment for mold growth and proliferation.
Another way to prevent mold from spreading is to avoid DIY mold stain removal. Mold cleaning without embracing the right approaches will lead to more spores in the air. As a result, mold will spread all over, increasing mold risks.
The best approach is to work with an expert in mold remediation. Such experts will remove mold and address the cause, preventing the spread.
Get in Touch with Local Mold Experts
If you're not ready to compromise your health and property's structural integrity, get in touch with our mold experts.
At Hippo Carpet Cleaning Rockville, we have the best mold remediation services. Our mold specialists are only a call away! 301-591-1734 is the magic number.