Mold Testing and Inspection in Rockville
Are you suspecting that you have mold hiding from plain sight on your property? There's no need for second guessing! Get professional mold inspection and mold testing help now!
If you live in or around Rockville, Hippo Carpet Cleaning Rockville is here for you to solve your mold issues. We are professionals when it comes to inspecting and testing your living space or working space for mold.
Succinctly, mold poses a serious health threat to you and your loved ones. Also, their presence makes your property or building vulnerable to decay in no time. In the short run, it would not be in your best interest to allow them to thrive on your property because at the end of the day, you'll be the one coughing up cash for medical bills and property renovation.
What Services Do We Offer?
We offer two basic services that are most important in the quest to rid your property of mold. We offer mold inspection and mold testing services.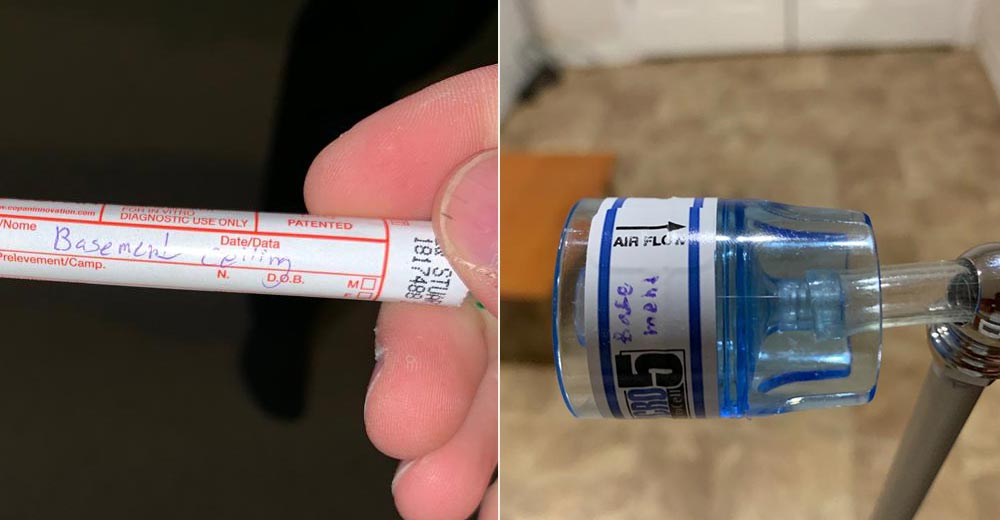 Mold inspection: what does it entail?
This process is centered on ascertaining if there is mold on your property, especially where you cannot physically see mold with your bare eyes. Molds are tiny microorganisms with the ability to diffuse and form a huge colony in no time. Sometimes, they might be shielded by cracked walls, or well tucked under broken tiles. It is our paramount responsibility to locate them out so that mold removal can then be carried out so that the property can be free.
Inspecting your space for mold is important in that; you get to know for sure if there are molds lurking on your property. This will help you decide what is the next line of action to take. Also, inspecting for mold helps to detect mold at an earlier stage when they are just starting to spread. Early detection protects you from health issues posed by molds. Another fundamental reason why an inspection should not be taken with levity is the prevention of the possibility of mold invasion that might culminate into unpalatable consequences within a short time.
How do we conduct mold inspection?
Basically, what we do at the job site entails the following:
We discover the source of mold. Discovering the breeding spot is the most crucial part of the job. This is the first thing we do when on-site.
We perform holistic inspection of the suspected area. We leave no stone unturned.
We ask questions to understand what the ordeal of the client has been from time past. Some of these vital details go a long way in giving us a head start sometimes.
After the inspection is completed, our specialists then recommend what the next line of action should be.
Mold testing; what's it all about?
This involves understanding the nature of the mold that has invaded your property for the purpose of making mold remediation easier. Testing molds is another integral part of the remediation process. It's the only process that involves engaging lab equipment to decipher the exact microorganism that has infested your property.
In performing this service, our specialists only gather two kinds of samples from the suspected area. These samples are what will be tested at our laboratory. Basically, two kinds of samples are usually obtained from the site; they are the control sample which is the initial sample collected at the suspected location. It will subsequently be used as the basis of comparison later on; the second kind of sample is the sample from the affected area.
Why are we the best to handle your mold issues?
Our reputation precedes us as overtime, we have successfully helped numerous clients to fish out molds. By so doing, we have rescued a lot of homes from the seemingly inevitable repercussion of serving as a hot spot for mold infestation. For the following reasons, we are your best guys on the block.
We have the best equipment

What makes us stand out from our competition is our investment in top-notch tech devices for mold inspection and testing. All these are with the intention of offering nothing but quality services to our clients.

We offer premium services for less

At Hippo Carpet Cleaning Rockville, what drives our passion is your wellness and the safety of your property from subtle destroyers like mold that can wreak unimaginable damages within a short period of time. Our services are very affordable and it comes with quality tags.

No one does it better

You might end up wasting your precious time, energy and hard-earned money if you attempt to use DIY techniques to find mold in your property. You ought to understand that molds are subtle microorganisms that can grow in the least expected places. Thus, it's important you call us for professional mold testing and mold inspection services. Your satisfaction is guaranteed with us.

We've got the best hands

Our specialists know their stuff when it comes to testing and inspecting your property for a possible mold infestation. They possess every necessary qualification to approach your mold problem from a professional angle.
How much does mold inspection and moisture detection cost in Rockville?
| | |
| --- | --- |
| Mold inspection | $149 |
| Moisture issues detection with thermal imaging camera | $129 |
Mold testing cost in Rockville, MD
Mold testing requires the collection and analysis of mold spores; it is generally more expensive and time-consuming than mold inspection.
| | |
| --- | --- |
| Mold testing | $395 |
| Any additional samples for mold testing | $95 |
Who needs these services?
Every homeowner who understands that their homes are highly prone to mold infestation as a result of water leaks and pipe burst needs these services. However, if there are visible signs of mold on your property already, you might need our inspection service. But you may still contact us for mold testing services to figure out the exact kind of mold that has infested your property.
When it comes to offering unparalleled service for inspecting properties for mold or testing mold, we are second to none. Feel free to contact us now. Our team of specialists are excited to work with you to ensure that your home is mold free. Call Hippo Carpet Cleaning Rockville today - 301-591-1734!