Rug Cleaning in Rockville
Rugs can be a great investment, but they require special care and attention to extend their life. At Hippo Carpet Cleaning Rockville, we provide an exceptional rug cleaning service to give your rug a new look.
Best Way to Clean a Rug
Knowing how to clean an area rug will not only give exceptional results but also prolong its life. Here is what you can expect from our rug cleaning in Rockville, MD.
Step 1: Inspection
Before we start the cleaning process, we first inspect the rug for any stains, dye bleed, and wear. After doing a pre-clean inspection, we will suggest the best cleaning method.
Step 2: Soil Removal
We will vacuum the carpet to remove soil that hides in the fibers. Afterward, it goes through a mechanical beating process to loosen the soil.
Step 3: Pre-Treatment
If the carpet has any odor or mildew/mold, it is decontaminated to remove them. Pre-treatment will also depend on the condition of your carpet.
Step 4: Washing
We use the best washing process depending on the type of your rug. Generally, it could go through extraction cleaning or submerged in cold water. Also, we use safe, eco-friendly, and effective cleaning solutions to remove any spots or stains.
Step 5: Rinsing
Once your rug is clean, clean cold water is run over it to remove the cleaning solution and residue.
Step 6: Water Extraction
It is then taken through a water extraction process to remove excess water. This ensures a quick drying time and prevents mold growth.
Step 7: Drying
We then take it to our drying room for speed drying. The temperature and humidity in this room are controlled, making it a safe drying method.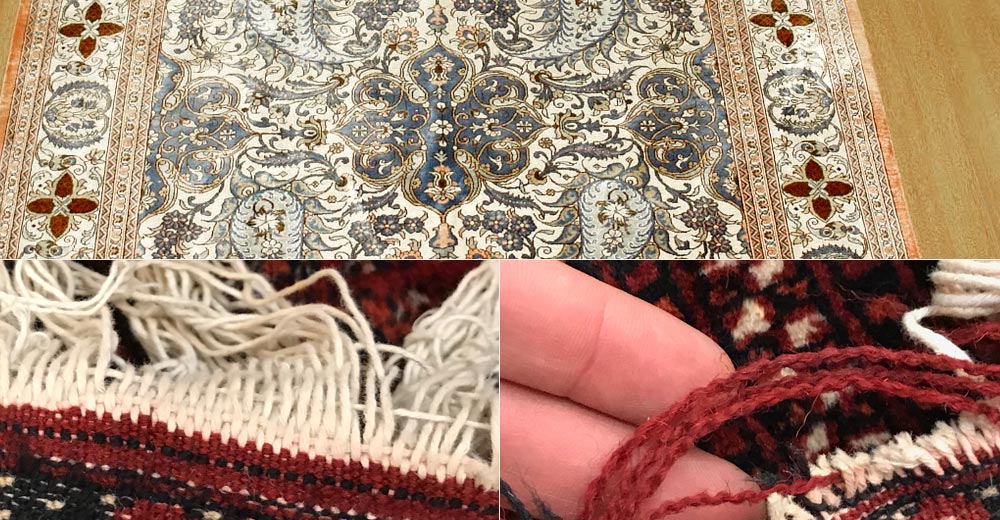 Oriental Rugs and Area Rugs: Differences in Cleaning Them
Here at Hippo Carpet Cleaning Rockville, we offer a professional rug cleaning service for both area and oriental rugs. We understand that not all rugs are the same and their cleaning methods may vary.
Our team of professionals is conversant with the different fiber care and weaves types including wool, silk, synthetic, and natural fabric. They have also gone through training in handling different types of rugs- from area rugs, oriental, to fringe types.
When it comes to area rug cleaning, our cleaning specialists use the most effective cleaning methods to give you impressive results. For this type, we use carpet cleaners that will get rid of dirt and stains without causing fuzzing, fraying, or loss of color. All our products are environmentally friendly and very effective.
We then use a cleaning machine to forcefully inject hot water into the fibers to loosen the dirt and debris. Afterward, our professionals use a powerful vacuum to suck up the dirt and other debris, giving your area rug a sparkling new look.
However, we use a completely different method when cleaning oriental rugs. This is because they are very delicate and even susceptible to shrinkage when excess water is used. Thus, it is best left to professional rug cleaning services like Hippo Carpet Cleaning Rockville. With proper care, this expensive investment can last up to 150 years.
At Hippo Carpet Cleaning Rockville, we have a team of qualified oriental rug cleaning professionals who are trained to handle oriental rugs with utmost care. We understand that oriental cleaning requires skill and precision and our cleaning professionals know how to balance the pH.
Since oriental rugs are prone to color bleeding, we only use industrially tested cleaning materials that won't react with the dyes in the material. Besides, we use proper care when cleaning this type of rug to extend its life. Although we use a more gentle cleaning method to maintain the integrity of your oriental rug, you can be assured that it is effective enough to remove stains.
The Effective and Protective: Up-to-Date Rug Cleaning Technologies
If you are looking for rug cleaning near me, look no further than Hippo Carpet Cleaning Rockville. We started years ago and we have developed useful expertise in rug cleaning techniques. We incorporate modern techniques and technologies to safely clean all types of rugs and maintain their integrity.
Our professional rug cleaning equipment replicates the conventional cleaning method and uses a total immersion process.
Top-notch Rug Cleaning Services in Rockville!
Whether you own a nylon rug or a very delicate fabric, you can trust our cleaning specialists! We will get the job done without compromising the safety of your rugs. For a free price estimate on our services, get in touch with us today at 301-591-1734.