Upholstery Cleaning in Rockville, MD - Service on the Spot
When it comes to upholstery cleaning service in Rockville, MD, you want to hear words like "excellent service" when you ask your friends - "Do you know of any good upholstery cleaning near me"? If you want spanking clean furniture upholstery and carpets, let us help.
Hippo Carpet Cleaning Rockville is a team of experts, specializing in keeping your home or your busy commercial business looking good all year round. Whether it is a mattress, special rugs, carpets, or sofa cleaning, we offer you 100% satisfaction - our qualified technicians make everything better with their knowledge, expertise, care, and professionalism.
Naturally there are benefits to getting in professionals in order to keep your place looking spic n span. We all know that over time, these carefully chosen pieces of upholstered furniture experience wear and tear. Whether it is restoring an old chair, cleaning the couch, or maybe mattress cleaning, you need the best.
Benefits of Hiring Professionals
With professional equipment used, the lifespan of upholstered furniture is extended. Sometimes you just want to replace all your stained stuff, but wait! With the amazing cleaning power that we offer, your furniture can look like new.
Indoor air quality will improve because you are getting rid of dust, food particles, mites, or mold, etc. These can cause health problems. Getting rid of all that gunk lets you and your family or your entire office staff breathe clean air.
Spots and stains disappear. You might not notice those wine stains so much but other people will! What does that recliner or love seat look like now? If it's at the office, clients won't say anything, but they will notice the condition of your upholstery. With a professional cleaning service, you might believe you just got a whole new set of furniture!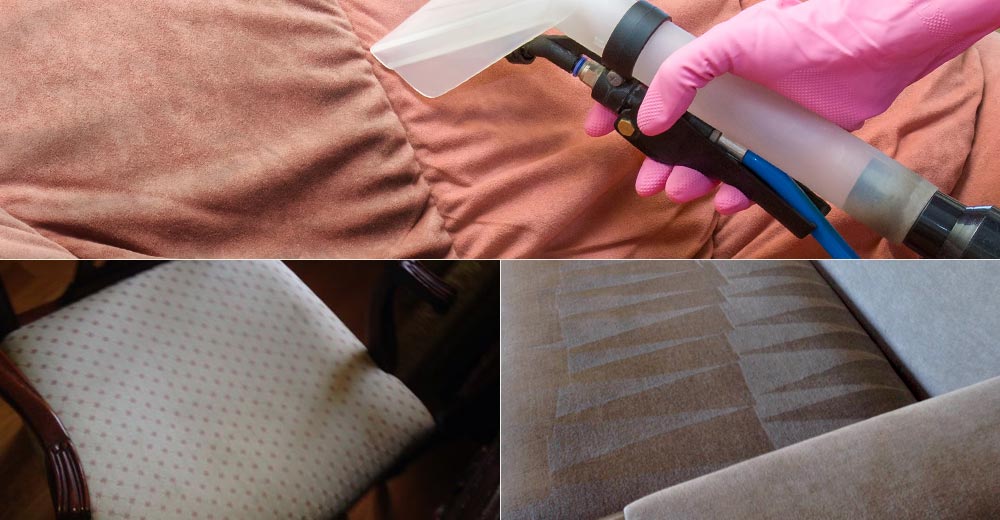 Perk up Your Health
Regular good cleaning removes airborne contaminants, dust mites, mildew and mold.
Dust Mites
Did you know that dust mites live in upholstery, carpets, curtains, and bedding? Yikes! Dust mite feces can irritate your mucous membranes and lungs and cause rashes on your skin. People with asthma, eczema, and emphysema particularly can suffer.
Mildew and Mold
When mildew and mold are left unchecked, serious respiratory problems can occur, weakening the immune system. Then there's just the typical grime and dirt that flows in through the windows and doors and gets embedded in the carpets and upholstery. That's why it's important to have regular mold testing done in your home.
All kinds of upholstery are susceptible to this contamination.
When you sit on that 3-seater, ottoman or chair at the office, you transfer oils from your hair and skin flakes compress the dirt further in, causing it to stain and to damage the fibers. The whole area in the office or home can take on the smell of the stale furniture, carpet, and upholstery smells.
At home, gorgeous chaise lounge chairs or the sectional 4-5 seater where you witnessed your kids' and their friends spilling drinks and food on last Christmas are looking limp and drab. And that poor sofa bed where the dog and cat were fighting over the space - all have endured harsh treatment from food, drink, cigarettes, water, pet stains, etc. They might be looking frumpy and dirty, and you had considered throwing them out and buying new stuff this year.
Just one dining room chair at the dining room table or one office chair is the same as one rotten apple in the box - it can ruin the entire look of a beautiful set. Don't try and clean the stains yourself - you could set in the stain instead of removing it, and that can make it impossible to remove, even with professional cleaning.
Our Expert Upholstery Cleaners
Hippo Carpet Cleaning Rockville professionals will discuss with you safe methods to keep your furniture and upholstery looking impressive - hygienic and clean, and smelling great too. Different coverings like leather, velvet, or real suede, require different types of care. With years of experience, our technicians will choose the right care for your furniture. Our team uses commercial-grade equipment for this which means higher water pressures and powerful vacuum suckers and cleaners.
Feel free to call us at 301-591-1734 for excellent deep cleaning. While you wait for the team's next visit, all you need to do is vacuum regularly. Clean spills and spots with furniture cleaning products that won't damage your carpets and upholstery. A good idea is to use mats to wipe your feet at outside doors. Are the air filters in your home or office regularly cleaned or replaced? That helps to reduce airborne dust particles as well.
One Call and You're All Set
These days, when there is a major emphasis on health and clean air, you will find a professional service a superb choice. Don't get all frazzled and worried about your home and office. The right tools and equipment, together with experienced professional upholstery cleaners, deal with the problems at hand. Phone us today and get your free estimate - we are here for you from 8 to 8, every day. Have the right professional upholstery cleaning service team on your side so you can give your family, friends, and clients the red carpet treatment.